GASTONIA GALLOP
Cotton Mill Songs & Hillbilly Blues
Piedmont Textile Workers on Record
Gaston County, North Carolina 1927 - 1931
OLD HAT CD 1007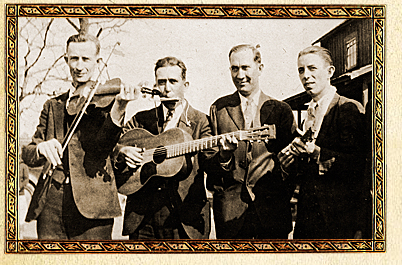 Gastonia Gallop provides a vivid portrait of the evolving music traditions heard in the mill villages of Gaston County, North Carolina, during a period of swift social and cultural change. Amid this emerging modern world, with its factory whistles, clattering machines, and low-wage labor, local textile workers created a vibrant working-class music that provided the foundations for today's country music. Here are 24 tracks celebrating these largely unsung musicians and the enduring musical artistry they inscribed in wax for phonograph companies between 1927 and 1931. You'll hear David McCarn's biting satires of cotton mill life, the virtuoso harmonica-and-guitar duets of Gwin Foster and Dave Fletcher; the upbeat novelties of the Three 'Baccer Tags, the heartfelt ballads of Wilmer Watts & The Lonely Eagles, and more. Gastonia Gallop has been carefully crafted by Old Hat's team of experts, and all tracks are digitally remastered from original 78 rpm records. The handsomely designed CD package includes a 24-page, full-color booklet with rare vintage photographs, complete discography, and a detailed historical essay by Patrick Huber, author of Linthead Stomp: The Creation of Country Music in the Piedmont South.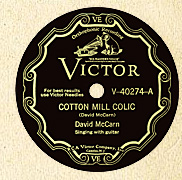 "Here are musicians who mastered instruments like the harmonica and banjo and took them to heights of virtuosity. Cotton mill life was no picnic, so many of the songs from this era speak of hard work, unfair treatment and poverty. Having grown up in Gastonia and having many relatives who worked in the mills, I feel a unique connection to the voice and spirit of this music."
— Justin Robinson, Carolina Chocolate Drops
"The massive brick hulks of many of the old textile mills now stand silent, boarded up and abandoned, but echoes of the distinctive hillbilly music that millhands in Gaston County and all across the Piedmont South forged on radio and records during the 1920s and 1930s continue to reverberate throughout the United States and, indeed, the world."
— Patrick Huber, author, Linthead Stomp, The Creation of Country Music
in the Piedmont South
1. GASTONIA GALLOP David McCarn
2. GET YOUR HEAD IN HERE Three 'Baccer Tags
3. GAL OF MINE TOOK MY LICKER FROM ME Carolina Twins
4. COTTON MILL COLIC David McCarn

HEAR THE COMPLETE SONG!

5. BEEN ON THE JOB TOO LONG Wilmer Watts & The Lonely Eagles

HEAR THE COMPLETE SONG!

6. SOUTHERN JACK Carolina Twins
7. EVERYDAY DIRT David McCarn
8. BONNIE BESS Wilmer Watts & The Lonely Eagles
9. THINK A LITTLE George Wade & Francum Braswell
10. BAY RUM BLUES Dave & Howard

11. WALK RIGHT IN BELMONT Watts & Wilson

12. RED ROSE RAG Fletcher & Foster
13. POOR MAN, RICH MAN (Cotton Mill Colic No. 2) David McCarn
14. SHE'S A HARD BOILED ROSE Wilmer Watts & The Lonely Eagles
15. I WANT MY BLACK BABY BACK Carolina Twins

16. AIN'T GONNA DO IT NO MORE Three 'Baccer Tags

17. SLEEPY DESERT Wilmer Watts & The Lonely Eagles
18. TAKE THEM FOR A RIDE David McCarn
19. CHARLOTTE HOT STEP Fletcher & Foster
20. COTTON MILL BLUES Wilmer Watts & The Lonely Eagles
21. WHEN YOU GO A COURTIN' George Wade & Francum Brasswell

22. A CHANGE IN BUSINESS ALL AROUND Carolina Twins

23. WORKING FOR MY SALLY Wilmer Watts & The Lonely Eagles
24. SERVES 'EM FINE Dave & Howard