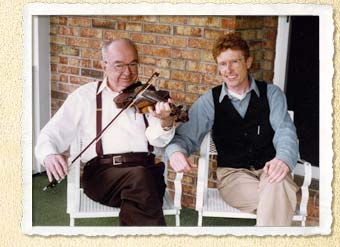 Fiddler Frank Blevins with Marshall Wyatt
of Old Hat Records, 1996


Old Hat Enterprises was founded in 1994 by collector Marshall Wyatt in order to promote awareness of American vernacular music and to research its history. Old Hat conducts field work and maintains archives of sound recordings in various formats, with an emphasis on 78 rpm records of the prewar era. Other holdings include oral history interviews, vintage photographs, catalogs, books, discographies, and musical ephemera. Mr. Wyatt is a member of the Association for Recorded Sound Collections (ARSC) and the National Academy of Recording Arts & Sciences (NARAS).
Old Hat Records was formed in 1997 as a label devoted to quality reissues of vintage American music, coupled with thorough historical research. One of America's most valuable cultural resources is the great music recorded in the early decades of the 20th century: old-time string bands, blues, jazz, gospel, jug bands, songsters, vocal quartets, vaudeville and medicine-show music, and more. Old Hat creates CD anthologies of these early recordings, carefully remastered from the original 78 rpm discs and presented in historical context, with extensive notes, rare photographs, period artwork, and full discographical details.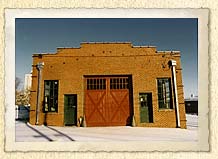 Old Hat Headquarters:
The Allen Forge Building (1925)
Raleigh, North Carolina


Old Hat has formed alliances with top professionals in the field in order to ensure the highest caliber productions. David Lynch of Lynch Graphics, Inc. creates our distinctive website and graphic design; Grammy-winning sound engineer Christopher King of Long Gone Sound Productions is in charge of analog-to-digital remastering; and Harris Wray, formerly of Smithsonian Folkways, handles publicity for the label. Digital mastering is provided by Jeff Carroll of Bluefield Mastering, and precision printing is executed by Millenium Print Group. The rare 78 rpm records and other historical artifacts that appear on the Old Hat anthologies are made available by a network of America's top collectors and archives.
Educational Outreach: Old Hat Enterprises has a long history of support for academic, archival, and non-profit organizations. Old Hat has contributed music, artifacts, and expertise to a variety of such institutions, including:
Historic Oakview County Park, Raleigh, NC
Western Film Preservation Society, Raleigh, NC
Historic Stagville, Durham County, NC
T.T. Wentworth, Jr. Florida State Museum, Pensacola, FL
The Blue Ridge Institute & Museum, Ferrum, VA
History Detectives (PBS), Lion Television, New York, NY
Georgia Music Hall of Fame, Macon, GA
Southern Folklife Collection, University of North Carolina, Chapel Hill
Textile Heritage Museum, Glencoe, NC
Georgia Southern University, Statesboro, GA
Read Joe Allen's Interview with Marshall Wyatt:
"Record Collecting in the Lost Provinces"
Old Hat CDs are available at record stores worldwide, and from leading mail-order companies and online retailers. CLICK HERE for ordering information.