North Carolina Ridge Runners
WEEU Radio Studio, Reading, Pennsylvania, 1939
8 x 10" Publicity Photo, Courtesy of Dorris Elliott Thompson
Standing, left to right: unidentified comedian, Elmer Elliott, Mrs. C.W. Seidel (manager),
Lester "Slick" Miller, Inky Pierson. Seated: Arthur Wood, Ola Belle Campbell.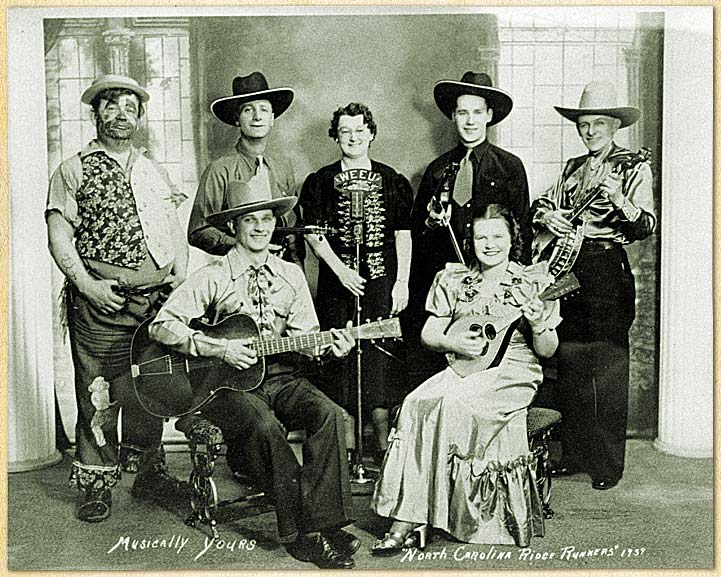 The North Carolina Ridge Runners were a group of talented musicians whose families had migrated from Ashe County, North Carolina to the Maryland-Delaware-Pennsylvania area during the 1920s and '30s, seeking better jobs and more productive farm land. The band established its reputation through frequent radio broadcasts and live appearances at regional music parks. Although personnel shifted over the years, the core of the early band comprised guitarist Arthur "Shorty" Wood, the group's leader; Ola Belle Campbell, five-string banjoist; and fiddlers Elmer Elliott and Lester "Slick" Miller. The Ridge Runners spread their distinctive brand of Southern music throughout the area, although they did make one concession to Northern musical tastes by including Maryland native Inky Pierson on plectrum banjo. Steel guitarist Johnnie Miller, another expatriot of Appalachia, joined the group following World War II, and remains active today as a fiddler and guitarist.