Songs as Sung by the Black Patti Troubadours
18-Page Song Book, Published by M. Witmark & Sons, circa 1900
Front cover image, 9 1/4" x 11 3/8", Collection of Old Hat Records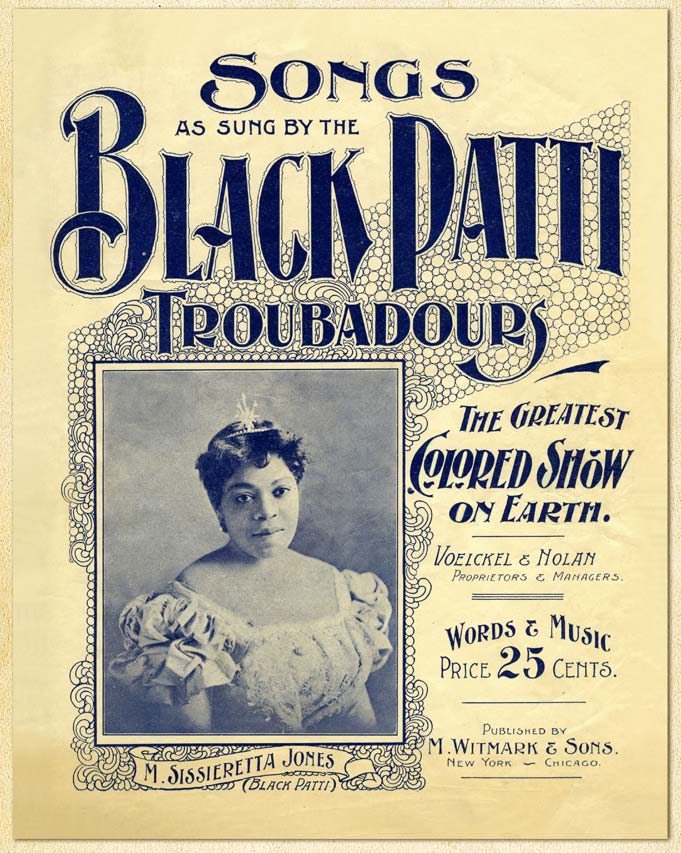 Sissieretta Jones (1869-1933) was a pioneering African American concert singer who established an international reputation during the 1890s. When a critic for the New York Clipper dubbed her "the Black Patti" in reference to famed Italian soprano Adelina Patti, the name stuck. Her extensive tours across the Americas and Europe included performances for three Presidents and the Prince of Wales. In spite of these successes, she was denied many opportunities due to prevailing racial barriers, including a chance to sing at the Metropolitan Opera. Frustrated by such limitations, Jones formed her own traveling revue in 1898, known as the Black Patti Troubadours. The troupe comprised about 40 comedians, dancers, acrobats and singers, and featured such prominent black performers as Bob Cole, Sam Lucas and Ernest Hogan. The Troubadours toured for nearly two decades, presenting Jones' operatic arias alongside minstrel songs and vaudeville acts, a unique blend of high culture and popular entertainment.