CLUCK OLD HEN
A Barnyard Serenade 1926-1940
OLD HAT CD 1009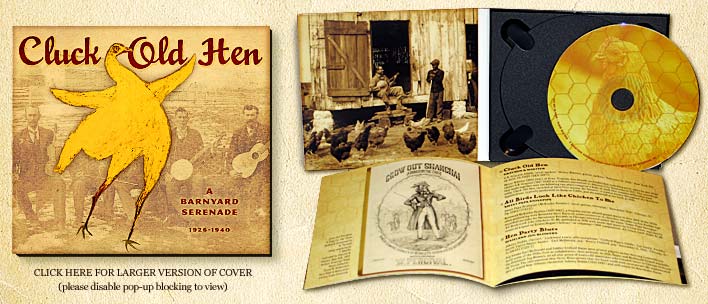 Here's a collection of vintage music inspired by America's favorite domestic fowl, the Chicken. Whether it's folk songs, double-entendre blues, old-time breakdowns, or tunes of Tin Pan Alley, this album is all about roosters, hens, chicks, pullets, and poultry of every description!
You'll hear French-Canadian fiddler J.O. LaMadeleine cut loose with his foot-stomping Chicken Reel, Memphis blues legend Frank Stokes sing Chicken You Can Roost Behind The Moon, and Earl McDonald's Louisville Jug Band render the surreal Under The Chicken Tree. Teddy Bunn and Spencer Williams offer their sophisticated take on The Chicken And The Worm, "Honeyboy & Sassafras" deliver their comic Chicken Sermon, and fiddler G.B. Grayson gives his classic rendition of the title song. Cluck Old Hen serves up all of this, and much more - 24 tracks in all!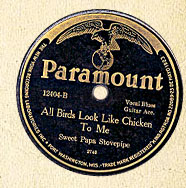 The music of Cluck Old Hen has been expertly remastered for digital clarity, and the CD comes with a handsome 20-page, full-color booklet that features rare photographs and illustrations, detailed song descriptions, and a full discography.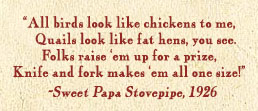 SONG LIST AND SOUND SAMPLES
(Disable popup blocking to access music samples)

MP3
FORMAT
1. CHICKEN REEL J. O. LaMadeleine
2.ROOSTER BLUES Casey Bill
3. RILEY'S HEN-HOUSE DOOR Riley Puckett
4. CHICKEN John & Emery McClung
5. CORN DODGER No. 1 SPECIAL George Edgin's Corn Dodgers
6. THE CROWING ROOSTER Walther Rhodes with "Pet" and "Can"
7. TURKEY BUZZARD BLUES Peg Leg Howell & Eddie Anthony
8. UNDER THE CHICKEN TREE Earl McDonald's Original Louisville Jug Band
9. IT TAKES THE OLD HEN TO DELIVER THE GOODS Cliff Carlisle
10. CLUCK OLD HEN Grayson & Whitter

11. ALL BIRDS LOOK LIKE CHICKEN TO ME Sweet Papa Stovepipe

12. HEN PARTY BLUES Dixieland Jug Blowers
13. CROW BLACK CHICKEN Leake County Revelers
14. STAY AWAY FROM MY CHICKEN HOUSE Gene Autry
15. WHOLE STOLE DE LOCK? The Georgia Browns

16. THE CHICKEN AND THE WORM Teddy Bunn & Spencer Williams

17. THERE'S A TRICK IN PICKIN' A CHICK-CHICK-CHICKEN Six Jumping Jacks
18. BARNYARD FROLIC Carolina Ramblers String Band
19. CHICKEN Utica Institute Jubilee Singers
20. CHICKEN YOU CAN ROOST BEHIND THE MOON Beale Street Sheiks
21. ROOSTER ON THE LIMB Mustard & Gravy (Dixie's Tastiest Combination)

22. THE CHICKEN SERMON Honeyboy & Sassafras

23.CHICKEN REEL STOMP The Tune Wranglers
24. I'LL RISE WHEN THE ROOSTER CROWS Binkley Brothers Dixie Clodhoppers