IN THE PINES
Tar Heel Folk Songs & Fiddle Tunes
Old-Time Music of North Carolina 1926 - 1936
OLD HAT CD 1006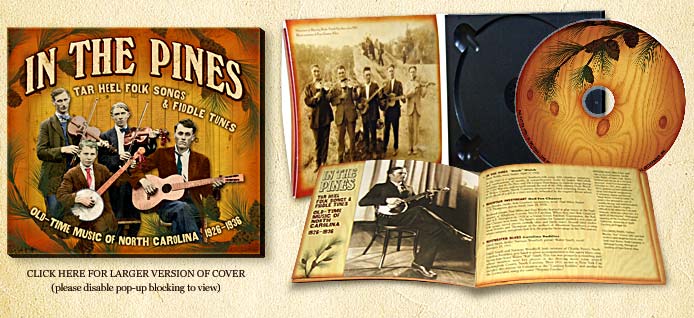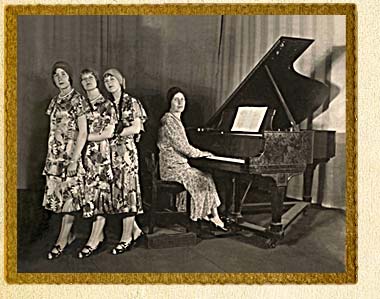 North Carolina, the "Tar Heel State," has a proud heritage of traditional music and this CD anthology offers compelling proof. Here are 24 rare tracks recorded between 1926-1936, a decade of inspired musical achievement. You'll hear old-time fiddle and banjo tunes, folk songs and murder ballads, gospel hymns, mountain blues, railroad songs, sentimental favorites and showpiece instrumentals, all performed by the state's top musical talent. From the western Mountains to the rolling Piedmont to the eastern Coastal Plain came such legendary names as Dock Walsh, Clarence Greene, Charlie Poole, the Dixon Brothers, Mainer's Mountaineers, the Cauley Family, and the Red Fox Chasers. You'll hear prime recordings from these artists, and many more. In The Pines has been carefully crafted by Old Hat's team of experts, and the entire CD package is handsomely designed in a style to match the music. Most tracks are reissued here for the first time on compact disc, and the music is digitally remastered for brightness and clarity. Included is a 24-page, full-color booklet with rare vintage photographs, many unpublished until now, and extensive historical notes on the era, the songs, and the musicians.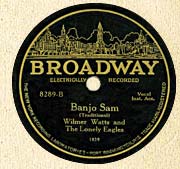 "With a flourish of strings—guitar, banjo, fiddle, and mandolin—In The Pines firmly establishes North Carolina's legacy as the home of old-time country music. From songs about celebrated outlaws like Tom Dooley to Mountain Sweetheart, each of the performances is filled with beauty and power." -William R. Ferris, Center for the Study of the American South, University of North Carolina at Chapel Hill
"Some of the finest recordings of old-time music seem to exist in two time zones- shaped by the past but responsive to the present. Many of them were made by artists from North Carolina, and In The Pines is a gorgeous showcase of their elegant, affecting music." -Tony Russell, author: Country Music Originals, The Legends and the Lost
| | | |
| --- | --- | --- |
| 1. IN THE PINES "Dock" Walsh | | |
| 2. MOUNTAIN SWEETHEART The Red Fox Chasers | | |
| 3. MISTREATED BLUE Carolina Buddies | | |
| 4. JOHNSON CITY HOP Carolina Ramblers String Band | | |
| 5. ARE YOU SURE? Dixon Brothers & Mutt Evans | | |
| 6. THE ROSE WITH A BROKEN STEM North Carolina Cooper Boys | | |
| 7. JACK OF DIAMONDS Ben Jarrell | | |
| 8. OTTO WOOD Cranford & Thompson | | |
| 9. RICHMOND SQUARE The Highlanders | | |
| 10. WILL, THE WEAVER Charlie Parker & Mack Woolbright | | |
| 11. LINDY Proximity String Quartet | | |
| 12. WORKING ON THE RAILROAD Blankenship Family | | |
| 13. CAROLINA'S BEST The Grady Family | | |
| 14. BANJO SAM Wilmer Watts & The Lonely Eagles | | |
| 15. NEW RIVER TRAIN Cauley Family | | |
| 16. LITTLE BUNCH OF ROSES Clarence Greene | | |
| 17. THAT LONESOME VALLEY Carolina Ramblers String Band | | |
| 18. HONEYSUCKLE RAG Blue Ridge Mountain Entertainers | | |
| 19. A PRETTY GAL'S LOVE Whitter-Hendley-Small | | |
| 20. TOM DOOLEY Grayson & Whitter | | |
| 21. THE LONGEST TRAIN Mainer's Mountaineers | | |
| 22. SWEET FREEDOM E.R. Nance Family with Clarence Dooley | | |
| 23. SUNNY HOME IN DIXIE Frank Jenkins' Pilot Mountaineers | | |
| 24. MY HOME'S ACROSS THE BLUE RIDGE MOUNTAINS Carolina tar Heels | | |