FOLKS, HE SURE DO PULL SOME BOW!
Vintage Fiddle Music, 1927-1935
Blues, Jazz, Stomps, Shuffles & Rags
OLD HAT CD 1003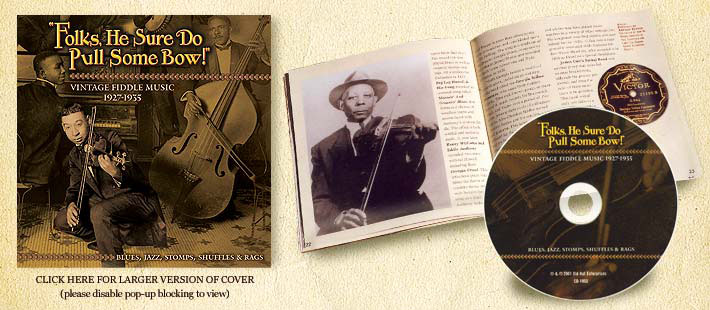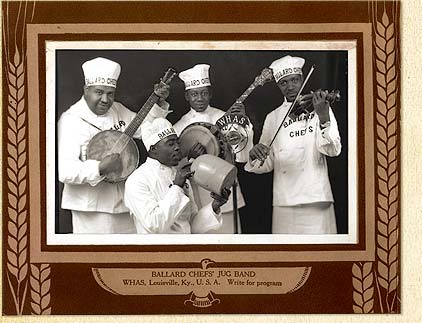 Here are 24 tracks of rare fiddle music from the early years of recorded sound, covering a wide range of artists and styles. Playing ragtime tunes, country breakdowns, hardcore blues and hot jazz, these fiddlers cut loose on the instrument known as "The Devil's Box." Blues fans recognize Lonnie Johnson, Bo Carter, and Big Bill Broonzy as masters of the guitar, but these men were also talented fiddlers, and they're all included on this disc. You'll hear jazz from Chicago's South Side, string band music from Mississippi, and blues from Beale Street. The State Street Boys play uptown blues, while groups like the Alabama Rascals and the Dixieland Jug Blowers provide good-time dance music. And there's much, much more- a full 74 minutes of music. Old Hat Records has teamed with Long Gone Sound Productions to capture the brilliant, clear sound of the original 78 rpm records. Folks, He Sure Do Pull Some Bow comes with a full-color, 32-page booklet that tells the fascinating story behind the music, illustrated with many rare photographs, drawings, and artifacts.
"Beautifully assembled, meticulously annotated, Folks He Sure Do Pull Some Bow! is yet another striking contribution of Old Hat Records to the reassessment, if not the rewriting, of blues history. This is wonderfully unexpected music which refuses to conform to any of the accepted notions of 12-bar blues. It should serve as a reminder of why the world continues to be drawn to this music, described by early observers as something unaccountably wild and strange. Folks, He Sure Do Pull Some Bow! restores some of that wildness, strangeness, and incalculable beauty."
—Peter Guralnick, author: Last Train To Memphis, Dream Boogie
"I love this CD. So much so that I am jealous and wish that I had done it!" -
— Lawrence Cohn, producer, Columbia's Roots 'n' Blues series
"In the days of jug bands and string bands, African-American players made their fiddles sing the blues, in solos that would slide, shimmy and yowl like alleycats... This well-chosen collection gets vivid sound out of old 78-rpm discs, and it's simply some of the happiest music around."
—John Pareles, The New York Times "Album of the Week," June 1, 2001
| | | |
| --- | --- | --- |
| | | |
| 1. RUCKUS JUICE AND CHITTLIN' Memphis Jug Band | | |
| 2. THE JAZZ FIDDLER Walter Jacobs and Lonnie Carter | | |
| 3. MOANIN' AND GROANIN' BLUES "Peg Leg" Howell & His Gang | | |
| 4. DANCE HALL SHUFFLE Clifford Hayes' Louisville Stompers | | |
| 5. MY FOUR REASONS Banjo Ikey Robinson and His Bull Fiddle Band | | |
| 6. WILD COW BLUESJoe Williams' Washboard Blues Singers | | |
| 7. KNOX COUNTY STOMPTennessee Chocolate Drops | | |
| 8. RUSTLIN' MAN State Street Boys | | |
| 9. SISTER MAUD MULE Alec Johnson | | |
| 10. G RAG Georgia Yellow Hammers | | |
| 11. THROW ME IN THE ALLEY Peetie Wheatstraw and His Blue Blowers | | |
| 12. IF YOU CAN'T MAKE IT EASY, SWEET MAMA Dixieland Jug Blowers | | |
| 13. BUNKER HILL BLUES Frank Stokes | | |
| 14. I GOT A GAL James Cole's String Band | | |
| 15. SWEET TO MAMA State Street Boys | | |
| 16. DOCTOR MEDICINE South Memphis Jug Band | | |
| 17. CABO VERDRANOS PEÇA NOVE Abrew's Portuguese Instrumental Trio | | |
| 18. WORRIED MAN BLUES Joe Williams' Washboard Blues Singers | | |
| 19. GEORGIA CRAWL Henry Williams And Eddie Anthony | | |
| 20. GOOD OLD TURNIP GREENS Bo Chatman | | |
| 21. MEMPHIS STOMP The Blue Boys | | |
| 22. GET UP OFF THAT JAZZOPHONE The Bubbling-Over Five | | |
| 23. RUKUS JUICE SHUFFLE Alabama Rascals | | |
| 24. LAZY LAZY RIVER Mississippi Sheiks | | |