VIOLIN, SING THE BLUES FOR ME
African-American Fiddlers, 1926-1949
OLD HAT CD 1002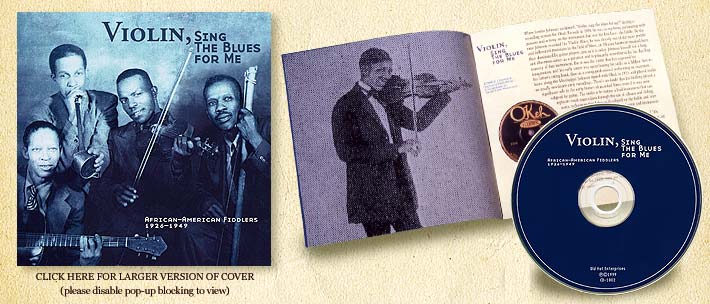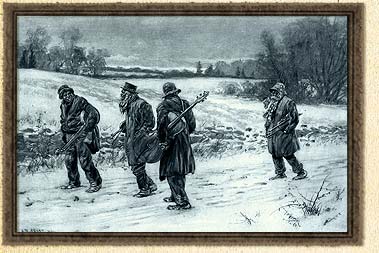 The violin played a significant role in the early history of recorded blues, with its crying vibratos and sliding notes creating a dramatic and soulful sound. Violin, Sing The Blues For Me offers 24 tracks of this rare music, played by many of the greatest black fiddlers who recorded before mid-20th century. From the sophisticated style of Lonnie Johnson to the raw Delta blues of Henry Sims to the rollicking tunes of the Memphis Jug Band, these musicians demonstrate the depth and diversity of African-American fiddle music. Included are two early instrumentals by the multi-talented Howard Armstrong, also known as "Louie Bluie," whose career in music spanned seven decades. This unique collection presents 73 minutes of vintage fiddle music, carefully remastered from the original 78 rpm records. In addition to blues, the album contains country dances, rags, stomps, and folk songs. The CD comes with a 32-page, full-color booklet with detailed history, complete discography, and a host of rare photographs and illustrations.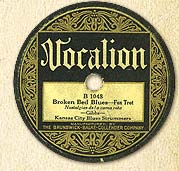 Living Blues Critics' Award: Best Historical Blues Album, 2000

"A top-notch compilation of classic performances with superb booklet and photos as well. This is an essential album for anyone interested in blues or string band music."
—Terry Zwigoff, director: Crumb, Ghost World, Bad Santa

"A revelatory survey of Southern black virtuosity from the first half of this century, Violin, Sing The Blues For Me restores the instrument's forgotten African-American pioneers to their rightful place in country-fiddle history." —David Fricke, Rolling Stone, December 16-23, 1999

LISTEN TO REVIEW FROM ALL THINGS CONSIDERED (NPR)
| | | |
| --- | --- | --- |
| | | |
| 1. VIOLIN BLUES Johnson Boys | | |
| 2. K.C. RAILROAD BLUES Andrew & Jim Baxter | | |
| 3. BEAVER SLIDE RAG "Peg Leg" Howell & His Gang | | |
| 4. ALMA WALTZ Mississippi Mud Steppers | | |
| 5. WINDOW PANE BLUES Tommie Bradley | | |
| 6. TRAVELIN' RAILROAD MAN Alabama Sheiks | | |
| 7. PIG MEAT BLUES Whistler & His Jug Band | | |
| 8. RIGHT NOW BLUES Frank Stokes | | |
| 9. EAST JACKSON BLUES Bo Chatman | | |
| 10. MEMPHIS BLUES Mobile Strugglers | | |
| 11. VINE STREET DRAG Tennessee Chocolate Drops | | |
| 12. BROKEN BED BLUES Kansas City Blues Strummers | | |
| 13. LONESOME BLUES Henry Williams & Eddie Anthony | | |
| 14. MEMPHIS SHAKEDOWN Memphis Jug Band | | |
| 15. ADAM AND EVE Tommie Bradley | | |
| 16. TELL ME MAN BLUES Henry Sims | | |
| 17. BLUE COAT BLUES "Blue Coat" Tom Nelson | | |
| 18. SALTY DOG Booker Orchestra | | |
| 19. BABY, PLEASE DON'T GO Joe Williams' Washboard Blues Singers | | |
| 20. STOP & LISTEN BLUES NO. 2 Mississippi Sheiks | | |
| 21. STEALIN' BLUES Cow Cow Davenport | | |
| 22. THE MOORE GIRL Andrew & Jim Baxter | | |
| 23. HIGHWAY NO. 61 BLUES Jack Kelly & His South Memphis Jug Band | | |
| 24. TED'S STOMP Louie Bluie & Ted Bogan | | |