MUSIC FROM THE LOST PROVINCES
Old-Time String Bands from Ashe County, North Carolina & Vicinity, 1927-1931
OLD HAT CD 1001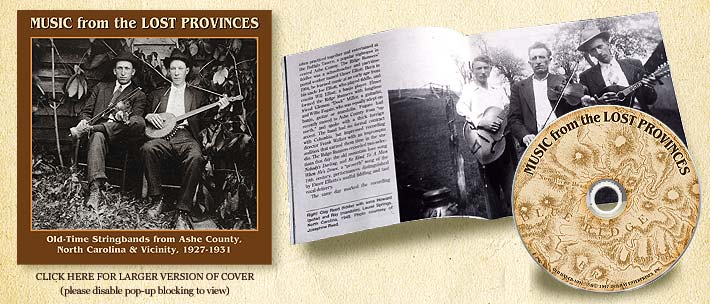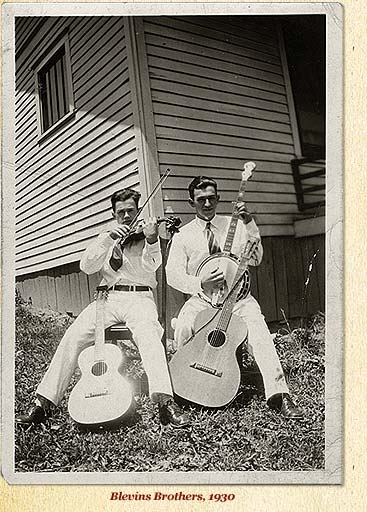 Here's an outstanding collection of 22 songs and tunes first recorded between 1927-1931 by string bands from Ashe County, North Carolina, a mountainous area in the northwest corner of the state once known as "The Lost Provinces" because of its extreme isolation. The music includes traditional fiddle tunes, folk songs, Anglo-Irish ballads, comic songs, topical numbers and original compositions, all from the time period often called the "golden era" of old-time string music. The anthology brings together for the first time the complete recordings of Frank Blevins & His Tar Heel Rattlers, the Carolina Night Hawks, the North Carolina Ridge Runners, and many more. All tracks on the CD have been carefully remastered from the original 78 rpm records, and a 28-page booklet gives a detailed history of the music based on interviews with original band members. Also included is a complete discography and numerous vintage photographs, many never before published. Music From The Lost Provinces is the premier release of Old Hat Records, a label devoted to quality reissues coupled with thorough historical research.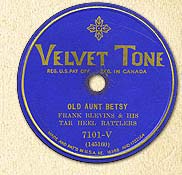 "It is a breathtakingly beautiful album... It took three blood pressure pills to calm me down after I heard Old Aunt Betsy."
—Dr. Charles K. Wolfe
"For anyone fascinated by the reckless, complex and circuitous route American music has taken over the years, this disc will be a welcome arrival. It's also great listening."
—Charlie Gravel, The Old-Time Herald, Fall 1999
| | | |
| --- | --- | --- |
| | | |
| 1. TRAIN 45 Grayson & Whitter | | |
| 2. NINE POUND HAMMER Frank Blevins & His Tar Heel Rattlers | | |
| 3. LAST GOLD DOLLAR Ephraim Woodie & The Henpecked Husbands | | |
| 4. GROUND HOG Jack Reedy & His Walker Mountain String Band | | |
| 5. MY NAME IS TICKLISH REUBEN Smyth County Ramblers | | |
| 6. FLY AROUND MY PRETTY LITTLE MISS Frank Blevins & His Tar Heel Rattlers | | |
| 7. NOBODY'S DARLING North Carolina Ridge Runners | | |
| 8. SHORT LIFE OF TROUBLE Grayson & Whitter | | |
| 9. DON'T GET TROUBLE IN YOUR MIND Frank Blevins & His Tar Heel Rattlers | | |
| 10. CLUCK OLD HEN The Hill Billies | | |
| 11. LIKES LIKKER BETTER THAN ME Woodie Brothers | | |
| 12. WAY DOWN IN ALABAMA Smyth County Ramblers | | |
| 13. THE FATAL COURTSHIP Ephraim Woodie & The Henpecked Husbands | | |
| 14. I'VE ALWAYS BEEN A RAMBLER Grayson & Whitter | | |
| 15. I'VE GOT NO HONEY BABE NOW Frank Blevins & His Tar Heel Rattlers | | |
| 16. GOVERNOR AL SMITH FOR PRESIDENT Carolina Night Hawks | | |
| 17. CHINESE BREAKDOWN Jack Reedy & His Walker Mountain String Band | | |
| 18. BE KIND TO A MAN WHEN HE'S DOWN North Carolina Ridge Runners | | |
| 19. OLD AUNT BETSY Frank Blevins & His Tar Heel Rattlers | | |
| 20. CHASED OLD SATAN THROUGH THE DOOR Woodie Brothers | | |
| 21. HANDSOME MOLLY Grayson & Whitter | | |
| 22. SALLY ANN Frank Blevins & His Tar Heel Rattlers | | |